No matter if you're a cocktail connoisseur or just a casual drinker, a home bar setup is essential for any homeowner. In fact, many people don't drink or aren't too into imbibing on a regular basis, but a home bar is essential for socializing and relaxing.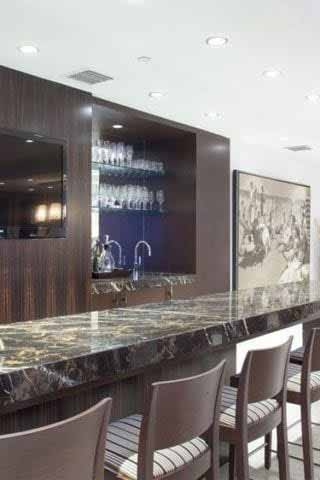 Whether you're a first-time mixologist or a seasoned pro, everyone agrees that a home bar can be both playful and functional. Guests will be able to create fun and funky mocktails and craft liquor-based drinks in no time with a home bar. With the right cocktail tools and equipment at hand, entertaining guests at home can be a breeze, but a home bar can truly transform and elevate a living space.
A truly inspiring entertainment zone requires a top-notch home bar, so how can homeowners create one? You can begin by following the following checklist to create a unique bar space in your home.
We have an accessory and home bar guide that contains a ton of entertaining ideas that you can use year-round, once you fix the details listed below.
Home Bar Checklist:
Determine the allotted space and size for the home bar
Note the type of natural lighting in the space
Keep a shortlist of home bar accessories you'll need
Research classic and popular spirits to have on hand
Learn different types of glassware for cocktails and drinks
Account for any mocktail mixers, garnishes, and bitters
Be mindful of style and decor for area staging (rugs, plants, art)
Home Bar Spirits, Tools, and Accessories
It's critical that you consider different kinds of liquor, glassware, and other tools when designing your home bar. It's likely that every mixology tool, glass, and garnish imaginable is available in your favorite bars. Do not let this concept overwhelm you; the best home bars can be simple, classic, and classy. These bars do not need gimmicks or fancy gadgets to function.
How do you start? Let's start with spirits. A timeless home bar should start with a few classics. Homeowners do not need to accumulate endless liquors or cognacs. Start with a few timeless and classic spirits, including whiskey (scotch or bourbon), gin, tequila, mezcal, and rum (white or dark).
The first elements that come to mind when one thinks of tools for the trade include shaker, jigger, straw, and bar spoon. However, glassware is just as essential. A martini glass, rocks glass, highball glass, or flute should be used to serve each drink in its recommended glass style.
After that, you need to add mixers and garnishes to the home bar. Again, do not feel pressured to get fancy too soon. Start simple and add more mixers as you make cocktails. If you have trouble picking out what to stock your home bar with, consider soda water and freshly squeezed juice. Using either of those products, you can create a wide range of both classic and new cocktails. Don't forget essential garnishes such as cocktail bitters, citrus juices, and oranges for zest.
For aesthetic reasons, homeowners should also consider the décor and lighting in the bar area. Decorative elements such as wall art, greenery, arts and crafts, textured rugs, and glassware all contribute to the overall look and feel of the bar at home. The additions you make to your home are a seamless way to express your personal style.
You don't have enough space for a home bar? Small-space homeowners and non-drinkers will appreciate a stellar and classic bar tray. Instead of carving out more space for a bar tray, revamp a credenza, bookcase, or table. Add a tray and stage the area with art on the wall, a novelty lamp, and vases or jugs next to the tray.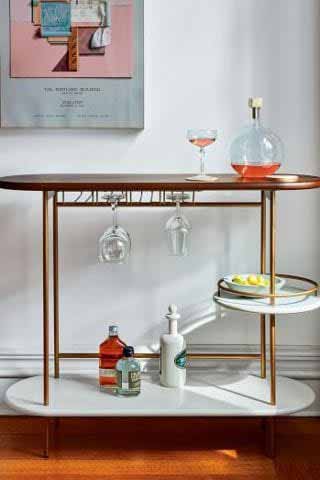 Maybe you have a bit of extra room, as well as some statement furniture to display. Vintage credenzas serve as a stylish center for cocktails. Credenzas come in handy with added storage options such as shelves and cubbies for bar accessories. These additions allow homeowners to make the utmost personalized bar space.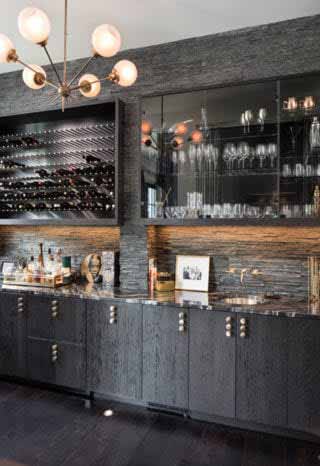 For a fully customized bar experience, consider installing a new wet bar when renovating your bar area. A wet bar is a perfect setup for cocktail connoisseurs. Include a sink, chic subway tile, cabinets, shelves, and lights and you've got an instant party.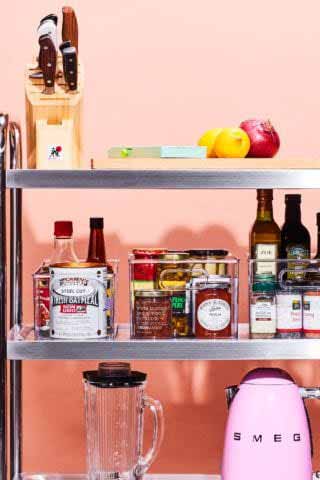 With the Bar Cart, you can easily organize your home bar, and it is a versatile piece of furniture. It contains compartments for supplies, mixers, and even wine bottles, allowing cocktail lovers to keep track of different flavors with ease. Bar carts are also extremely effective and take up little space. Organize the stylish piece with mixers, spirits, and glassware.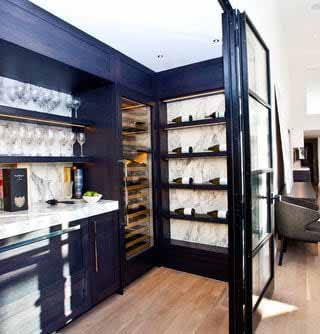 A built-in wet bar is perfect for homeowners who outgrow bar carts but don't want a full-on wet bar setup. The ideal place for entertainment at this kind of bar is to utilize any unused nook. Until now, this area had no activity. With the built-in bar, lighting, shelves, and cabinets, it will soon be a hub of lively activity.