When you think of building a home in suburbia or in rural Alberta, you often imagine spacious gardens with large homes steeped in family history.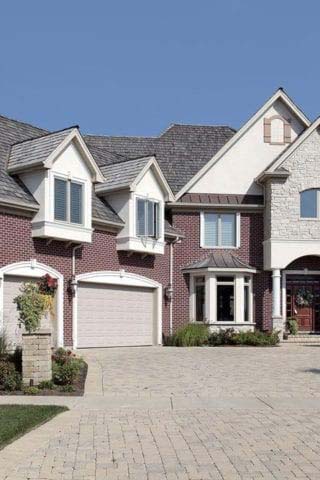 Developing a home on the countryside will probably provide you with a number of advantages and perks as you grow tired of the city's exhausting hustle and bustle.
Building a home in the suburbs of a major city or in a more rural area of your province may be on your mind. These nine advantages will make your dream home in this locale even more desirable.
1. There's plenty of room for a bigger house.
Canada has plenty of open spaces — rural areas make up 70 percent of the country —

Choosing to live in the country means that you have more privacy and space to breathe, so you can set up an outdoor gym or build a greenhouse as you please. There's no such thing as too much space when it comes to homes; your kids won't have to share a bedroom and there's room for a home office or a place for all of your family's hobbies.
2. Your fingerprint is incorporated into every aspect of the design.
Rural homes don't always use cookie cutter styles like urban ones. With acres of land to play with, you and your builder can create the home of your dreams. One of the key characteristics of "nonmetropolitan" homes is their high share of custom-built homes, according to a 2018 report by the National Association of Home Builders. They are either "contractor built", meaning that builders were called in to do the job, or they are "owner built". More than half of rural homes are custom-built. Urban homes are primarily built for sale in tracts or subdivisions.
When you have built a custom home, your fingerprints are all over the property, from deciding on layout to materials to countertop material and window color. Including an accessible bathroom for your parents or grandparents or soundproofing, a room for your kids' lessons is one way to accommodate your whole family. If you want an open-concept kitchen that connects to a beautiful garden for al fresco meals, it's all yours. If your kids want a swimming pool, you've got the space.
Real estate prices vary by location, but as a general rule, you'll get more bang for your buck in rural and suburban areas of Canada than you would in major city centers, where housing and living expenses are higher. In addition to gaining access to more space, you're also securing it for less. You could buy a four-bedroom house in the suburbs for the cost of a shoebox apartment in the heart of a major city. If there is less competition, you'll have more land to build on and won't have to worry about bidding wars.
In non-metropolitan areas of Canada, an average single-family home costs about $245,552.— 33 percent less than homes in urban areas. Compared to urban houses, suburban houses have 10 percent less square footage and cost $213,000 on average, compared with $324,000 for urban houses.
4. Make your building more efficient.
You can make your home self-sufficient in many different ways when your neighbors aren't nearby or share a fence. There will also be space for a vegetable garden, herbs, and flowers. In addition to chickens, you can raise cattle, goats, and rabbits, as well as keep chickens for providing endless supplies of eggs.
A well-kept garden and some animal grazing will provide you with the ingredients you need for cooking. If you aren't a farmer yet, a neighbor most likely will be – so you can forget about the weekend farmers market. While working with your builder, you can ask about a cold room to keep things refrigerated, as well as a greenhouse to shield your crops from excess heat and cold or unwanted pests. Both of these facilities are electricity-free.
Make the most of your newfound space by considering energy-efficient tips. You can look into setting up solar panels, wind turbines and windmills to get your energy covered too. Self-sufficiency means extra savings in your pocket.
The ACS reports that most rural families own their homes compared to their urban counterparts. Homeownership rates in rural areas are 81.1 percent compared to 59.8 percent in urban areas. Rural homeowners may have lower overhead costs or a more cost-efficient lifestyle, but they're also more likely to own their homes "free and clear," meaning they don't have mortgages.
Rural homeowners paid off their homes at a rate of 44 percent, while urban homeowners paid off their homes at a rate of 32 percent. Farmers without mortgages are able to save and spend more discretionary income. The NAHB report also found that nearly one-third of single-family homes built in the country are financed with cash, while this figure was about one percent for city homes.
6. A legacy designed to last.
The property you buy, whether it's raw land or a prepared lot, is likely to be one you'll keep. Building a house for less is not only possible but also possible for a family estate or a multigenerational home. There are guest suites and pool houses that are not connected to the main house, separate entrances for privacy, as well as multiple master bedrooms with en suite bathrooms.
By living together, the elderly can receive the assistance they need too and young adults can save up for their own homes. It is also possible for grandparents to manage their grandkids and contribute to home expenses.
7. You'll face fewer restrictions.
Rural areas don't have as many restrictions on building. If your neighbors are too far away to complain about the noise, there may be fewer restrictions on when your builders can work (there will be fewer zoning requirements, permits, and restrictions). If you aren't breaking provincial or national laws, then you will be able to make whatever decisions you feel like with respect to your property. You will, however, need to think about environmental impact assessments on wildlife and water.
Heavy-duty trucks are restricted from entering cities, but this is typically not an issue in the countryside. The builders and you will both benefit immensely from this.
8. Your community can be built by you.
Despite what critics say, suburban and rural communities do not necessarily offer fewer opportunities or cut-off from amenities anymore. According to a 2019 PricewaterhouseCoopers report, more than 2.6 million people moved to suburbs from principal cities between 2016 and 2017.
As homeowners settle in, "amenity creep" follows, as they demand better transit access and walkable neighborhoods close to shopping and entertainment. According to the report, employment centers are soon established as residents decide that they want to work close to home.
Even though there might not be a Starbucks or McDonald's at a major intersection, this is a great step for enlivening rural and suburban living.
9. Increase your health and mental well-being.
There is a scientific explanation for why you prefer living in the country. There is no question that the natural landscape outside your window, fresh air, access to green space – all these factors contribute to your mental and physical health.
Studies suggest that taking a walk in nature can help improve memory and attention spans by 20 percent.The study also found that "forest bathing," which is taking a walk in the countryside, lowers your blood pressure and decreases anxiety, just like it does for cramming into a crowded subway car at rush hour.
Generally, there is less crime and pollution in the countryside than in cities, and you won't be disturbed by traffic or sirens at night.
A rural or suburban home can help you escape the rat race and simplify your life, helping you to identify the most important things in life.