There's nothing better than a cosy fire on a chilly, snowy night in your new home. But do you want a gas, electric or wood fireplace?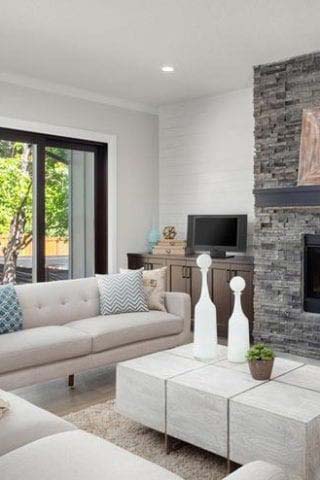 Sixty percent of houses have at least one fireplace, according to the National Association of Home Builders. They're usually the focal point in the living room but you'll also find fireplaces in an open kitchen space, in the dining room, the master bedroom or in the backyard.

It's no wonder most new builds incorporate at least one fireplace into their floorplans. Homeowners ranked fireplaces as one of the top three desired amenities in a home next to outdoor porches and upgraded kitchens, according to the NAHB.

They're a hot commodity, especially in markets with colder temperatures in the winter. Forty-six percent of homebuyers would pay more for a home with at least one fireplace, according to the National Association of Realtors. NAR data suggests they can boost the price of a home by thousands of dollars.
From the scent of burning wood to the glow and warm ambiance they add to a room, fireplaces can enhance any atmosphere. But choosing the right fireplace to suit your family's needs and your home's aesthetic is key. The last thing you want is a fireplace that merely collects dust in the corner of the room or takes up prime space in a central area.
Here's what every homeowner needs to consider when choosing the perfect fireplace for their new home.
What Type of Fireplace is Right for You?
Homeowners have four primary choices when it comes to how their fireplace will provide heat – wood, gas, electric or ethanol. They each come with their set of advantages and drawbacks.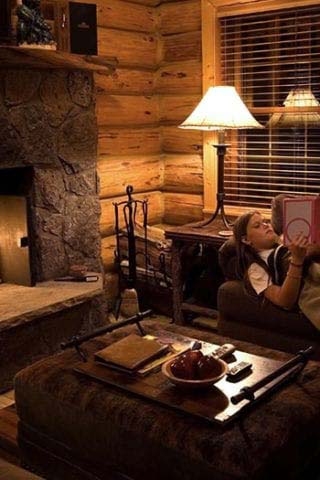 A wood-burning fireplace is as classic as it gets. They're the oldest, most traditional option – just imagine your family gathering around the fireplace with fresh-cut logs crackling in the fire. The scent, the sound and the heat are the ideal combination to get you through winter and into the Christmas spirit. They're also a lifesaver during a power outage!

But here's the catch: wood-burning fireplaces are the most high-maintenance and most expensive. Homeowners must carve out a place to store the logs as well as plenty of time to keep it stocked. You'll need to know how to start a fire and keep it burning.

Safety is also a major concern with a wood-burning fireplace. With the risk of hot embers popping out of unscreened fires, your chimney needs to be routinely cleaned to avoid build-up. Ashes should be swept away once the fire dies.
If you love the idea of a rustic wood-burning fireplace, but you can't commit to all the work, it may not be the best choice.

If you're ready to double-down, keep in mind as you're designing your home and deciding on where to place your fireplace: a wood-burning fireplace needs a chimney for the smoke and gases to escape your home. The other fireplace choices don't have this requirement.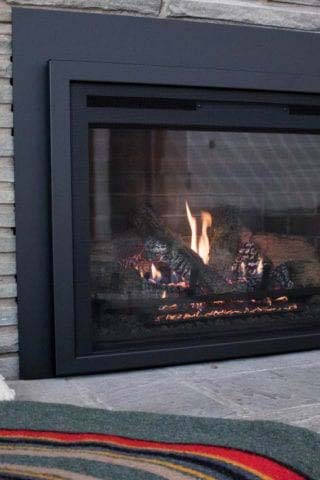 Gas fireplaces are a popular choice for new homeowners for one simple reason: their convenience. Compared to wood-burning fireplaces, they're easy to maintain, without any clean-up of wood chips and ashes, and there's no lingering smell. (Like a wood-burning fireplace, a gas fireplace can help you in a pinch during a power outage.)
They're also more affordable and flexible. They can be installed in virtually any room you want, and they don't require a masonry hearth and chimney like a traditional fireplace. Instead, gas fireplaces need a gas hook-up and can be vented through a pipe in the wall, or gas inserts. Gas burns much cleaner than wood-fire. Consequently, there are even vent-free gas fireplaces on the market.
They're user-friendly so you can start up your fireplace with a switch or remote control to ignite the gas or propane. There's no smoke and, sadly, no chance for toasting marshmallows on an open fire, but you can still see dancing flames that'll warm up the room. These modern-day fireplaces even run on a thermostat so you can strategically heat up the floor while giving your furnace a break.
If this sounds like a worthwhile trade-off for an authentic wood-burning fire, a gas fireplace may be your best bet. Busy families may get more use out of a gas fireplace than a wood-burning one.
The most hassle-free of the bunch is the electric fireplace. They come out of a box already constructed and can be plugged in anywhere you'd like in the home – even in your existing fireplace! There's no installation needed and no need to worry about ventilation.
There isn't a fire – just an electric heater designed to look like a roaring fireplace. But if you're dreaming of a fireplace in your living room just for the aesthetic, the electric option may fit the bill. They're also the safest option if you're a family with young children or pets in the house.
Don't be dissuaded from buying an electric fireplace – their technology has come a long way; they come with 3D flames and crackling sounds that are identical to a real fire. You can complete the look with a wall-mounted unit, adding a mantel and safety inserts to bring your "fireplace" to life.
They're emission-free, scent-free, clean-up-free and completely safe to operate. It's as easy as plugging it in and flipping a switch. You can also move them around the home too so you can experiment with different spots until you find the perfect location.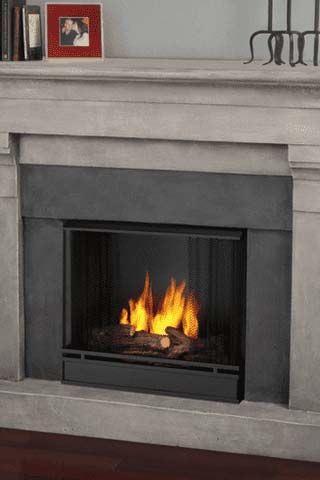 An ethanol fireplace is one of the newer fireplace choices on the market. It's ventless and uses renewable, clean-burning bioethanol fuel (or pure alcohol).
You simply fill up the burner container and light it up to create real flames, without any smoke, smell or chemicals. To turn it off, simply close the burner.
Most of these fireplaces come preassembled, making installation as easy as mounting it to the wall or deciding on the best location to place a freestanding fireplace. They usually come with the body, accessories like rocks or ceramic logs, and the burner container to hold the ethanol.
Deciding on the Perfect Spot
As you're designing the layout for your new home, you'll have to decide on where to put your fireplace. Adding a fireplace to an existing space or replacing the fireplace and surrounding area can be an expensive renovation so it's important to get this detail right.
Think of your fireplace's function first. Will it act as a beautiful centerpiece in your living room, or do you plan on hosting outdoor parties where a fireplace could be a great gathering point?
Other families may gather around the fireplace during the winter months, making it a functional addition in the family room while everyone's relaxing. Most homes with a single fireplace tend to position their fireplaces in these common areas that get the most use.
If you plan on putting up the Christmas tree next to the fireplace each holiday season, you may want to consider which room will have space for both.
Discuss your options with your builder's design center to determine which room is the best fit.
After narrowing down the room, you'll have to think of how to mount your fireplace before it's installed.
Most homes have a built-in fireplace (connected to the chimney, if needed), while others might have a gas or electric fireplace inserted into the wall. Homeowners can even opt for a freestanding fireplace, which is especially common in outdoor spaces.
Choosing Show-Stopping Materials for your Fireplace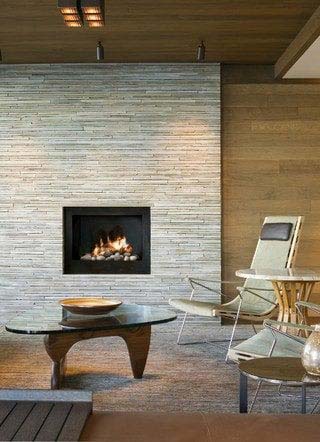 Knowing your home's overall aesthetic will be helpful as you design your fireplace and the surrounding area. Depending on the colors and theme for the room, you might opt for accents like stone, brick, tile or woodworking around your fireplace to compliment the rest of the space and your furniture.
You can mix materials, too. Imagine a wood-burning fireplace, with a wooden mantel, and a floor-to-ceiling stone surround. You can even opt for a brick surround with a gas fireplace insert below your family's TV.
If you decide on adding a mantle, you can decorate the space with photos, mirrors, statues and artwork. Your bottom line may dictate some of your decision-making from the type of fireplace to the trims and finishes to the surround. Your fireplace could cost around $400 for an electric model right up to $10,000 for a wood-burning fireplace with a masonry chimney. If you don't have the budget for a tradition fireplace, this could narrow down your options.