Bathrooms are personal spaces where one should feel relaxed and refreshed. There's no reason these areas should be drab or feature less design!
Diorinteriors reinvents the traditional design of the bathroom space with custom installations. It can be installed vertically as wall cladding or horizontally as flooring. This customization eliminates joints and creates visual continuity.
Silestone's Revolutionary Technology
Bathroom wall cladding is a waterproof wall covering which is becoming more popular as a modern, easy to clean, more durable waterproof alternative to tiles. Why? Because bathroom cladding is installed without the need for grout, there is no risk of grout discolouration or mould or mildew forming.
Cladding your bathroom walls with Multipanel bathroom wall panels, allows you to create maximum impact with minimum disruption. Suitable for all bathroom wet areas, waterproof wall panels can be fitted directly onto almost any surface – wooden framing, concrete, and over the top of existing tiles.
Diorinteriors contain a variety of colours and large customized format slabs, offering an extension to your design, while maintaining the harmony and visual stability of your bathroom. Silestone is a practical material for use on walls in bathrooms, as it requires little maintenance and enhances the style.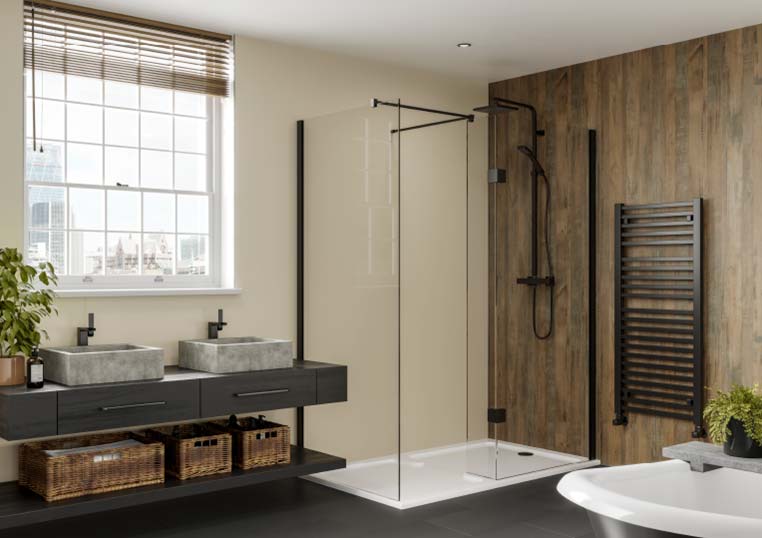 Benefits of Bathroom Cladding
Cladding your walls with Multipanel waterproof bathroom panels is fast. They can be installed by a Diorinterior installer up to a third quicker than tiles, meaning you get the use of your bathroom back faster. Panelled wet areas are also ready to use within 24 hours of installation, thanks to the fact that there is no need to wait for grout to dry.
Inspirational bathrooms for your home
You may also be interested